Honest Cinematic Stories.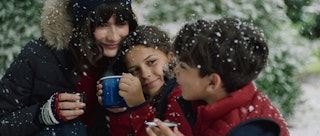 JOULES CHRISTMAS
We were commissioned by Joules, one of Britain's best loved family lifestyle brands to produce a Christmas film to showcase their winter collection.
We aimed to capture special winter / Christmas moments walking through the snow, collecting the tree, wrapping presents and getting cosy in front of the log fire.
We set out to make this as naturalistic and cinematic as possible within the constraints of shooting stills and film on the same days.
We shot the film in the height of summer in the Malvern Hills where a barn conversion and its surroundings were transformed into a winter wonderland in 30 degree heat! - the log fire and winter jumpers weren't on for long!